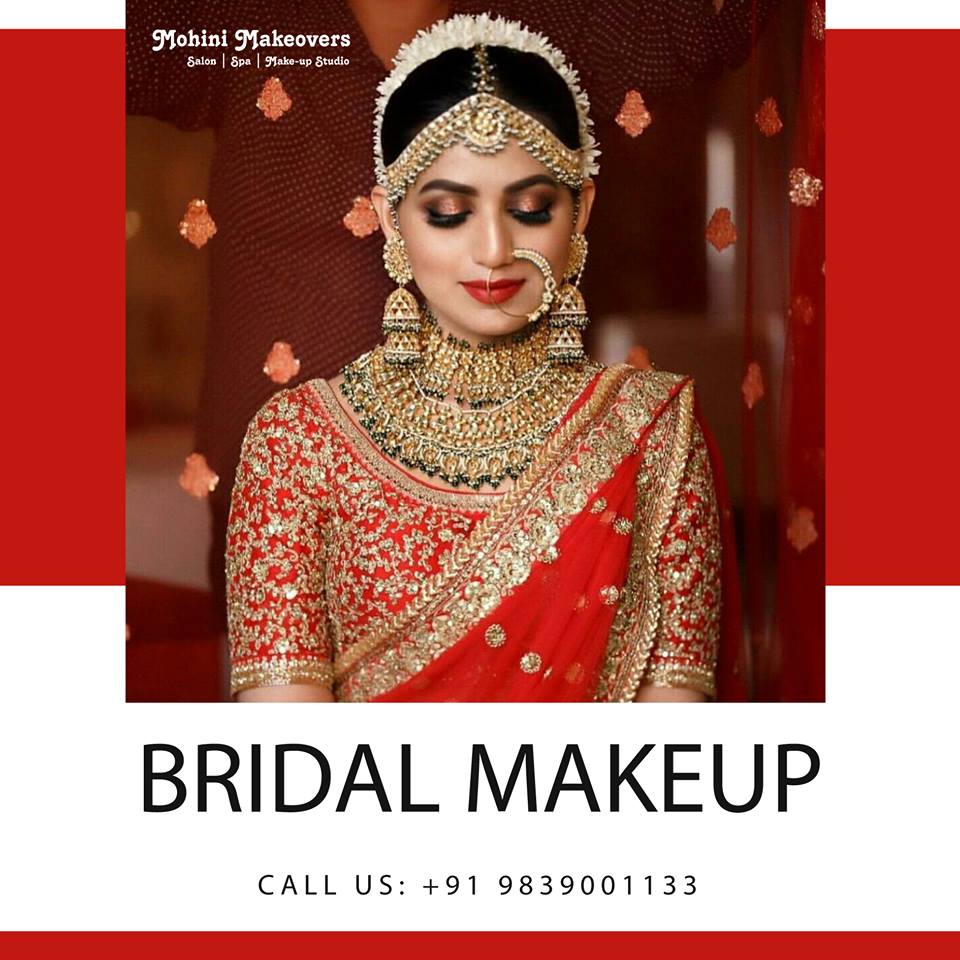 8 Feb, 2019
In a wedding every girl want to looks special and for a bride its mandate to looks extremely gorgeous in their wedding , but the turning point is come when bride thinks for choosing a make-up artist. There are so many make-up artists currently working in Lucknow but choosing one of them is the hardest work. Mohini makeovers is the best place for bridal makeup in Lucknow. They understand the different skins of girls and they work according to the bride skin and apply only that makeup stuff which should not harm bride's skin in future. Mohini makeover is the place where you can get multiple services to enhance the beauty. You can choose nail art, bridal makeup, salon and spa services.
Importance of makeup artist for the bride
Every bride expects a good makeup artist who can make her so beautiful on her special day. In Mohini makeover, makeup artist has great experience of bridal makeup and they understand well, what kind of makeup would appear best on bride. They provide you every service related to bridal makeup like facials, manicure and pedicure. If you choose a good makeup artist then it makes you and your beauty memorable on the day of your wedding. Mohini makeover artist understand and value their connections with their client so they provide their best in the industry. Makeup artist also suggests what will be good for your skin and how you can amplify your skin's beauty with some home remedies if you ask. They are very friendly and they understand what bride is expecting from them.
Other services apart from Bridal makeup
Mohini makeovers are working from long duration in the makeover fields and they have set great standards in the market. Mohini makeovers are now comes in one of the top ranked beauty salons for bridal makeup in Lucknow. They provide you services apart from the bridal makeover is nails art, spa services, salons and so many other beauty treatments. You can also go for applying blushes, skin care and new hair styles. As the technology is getting innovated Mohini makeover also upgraded them. Mohini makeovers are running with time and working with new technology. They use all the new technologies to give you better experience of makeup and it makes you more beautiful without consuming your precious time.
You can also make appointment with Mohini makeovers for grooming the way of your dressing or anything like hair care, hair styling and skin care. Mohini makeover has great experience in decorating brides they are very much skilled and the way of their work is very impressive. You can also visit Mohini makeover salon, if you are going for your kitty party, engagement party and any other event, where you want to look special. Mohini makeover is also famous for their nail art so if you are interested in decorating your nails, you can come to Mohini makeovers to make your nails more beautiful and attractive. Mohini makeover is the best place for any kind of makeup services in Lucknow.